Elite Fabric Popup Displays

Elite Fabric Pop Up displays are one of the quickest easiest way to create a large backdrop for retail, shopping centre or exhibition displays.
These lightweight systems have a high quality printed fabric graphic velcroed to the frame that stays on even when packed away.
Elite Pop Up Fabric graphic is a single, continuous panel printed to a durable, wrinkle-resistant polyester.
Easy to carry displays are perfect choice for trade show displays.
Elite Fabric Pop Up displays are available in straight and curved shapes.




Elite offers you a seamless backwall with dye-sublimation fabric graphics. Because of its velcro attachment system, the fabric is automatically stretched over the frame to display a perfectly taut image without wrinkles. The colors and the graphic itself are extremely durable over time, guaranteeing an impeccable finish time after time. Lighter, slimmer, and quicker to set-up than a traditional Pop Ups, Elite Fabric Pop Up gives you the ability to reduce and control your exhibiting costs.
Size Configurations
Elite Fabric Pop Up Straight available in 4 sizes ranging from 5ft to 20ft and Curved available in 2 sizes 8ft & 10ft wide. Standard soft carrying case is included with all Fabric Pop Up displays. Optional hard carrying cases are also available.
Elite Fabric Pop Up Straight




5FT - 60"W x 89"H x 12"D 8FT - 89"W x 89"H x 12"D 10FT - 118"W x 89"H x 12"D 20FT - 240"W x 89"H x 12"D

Elite Fabric Pop Up Curved




8FT - 90"W x 89"H x 24"D 10FT - 112"W x 89"H x 35"D

Straight Fabric Pop Up can be printed double sided.
Elite Fabric Pop Up Display 20'
Amaze your audience with a stunning graphical exhibit 20' Elite Fabric Pop up displays. 20ft Fabric Pop Up models includes (2) Extruded aluminum straight pop-up frames with leveling feet and (1) 20ft full color custom high-definition dye-sublimation fabric graphic.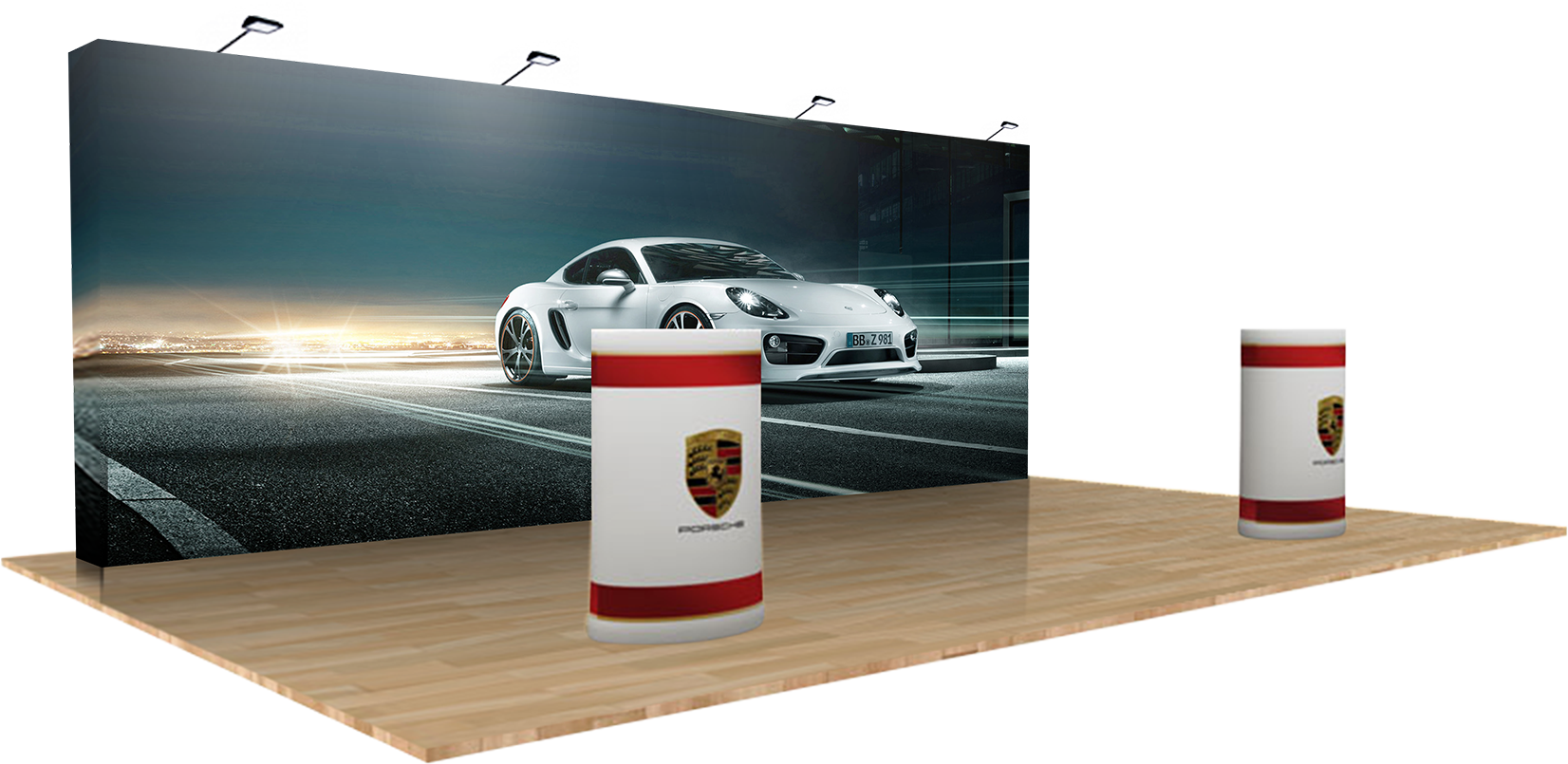 ELITE20S
Pop Up 20ft Straight
Size: 240"W x 89"H x 12"D
Customize Your 20' Booth
Combine 8ft and 5ft Elite fabric pop up displays to give custom look to your 20ft booth. Open the frames, connect the hooks, and your displays are complete.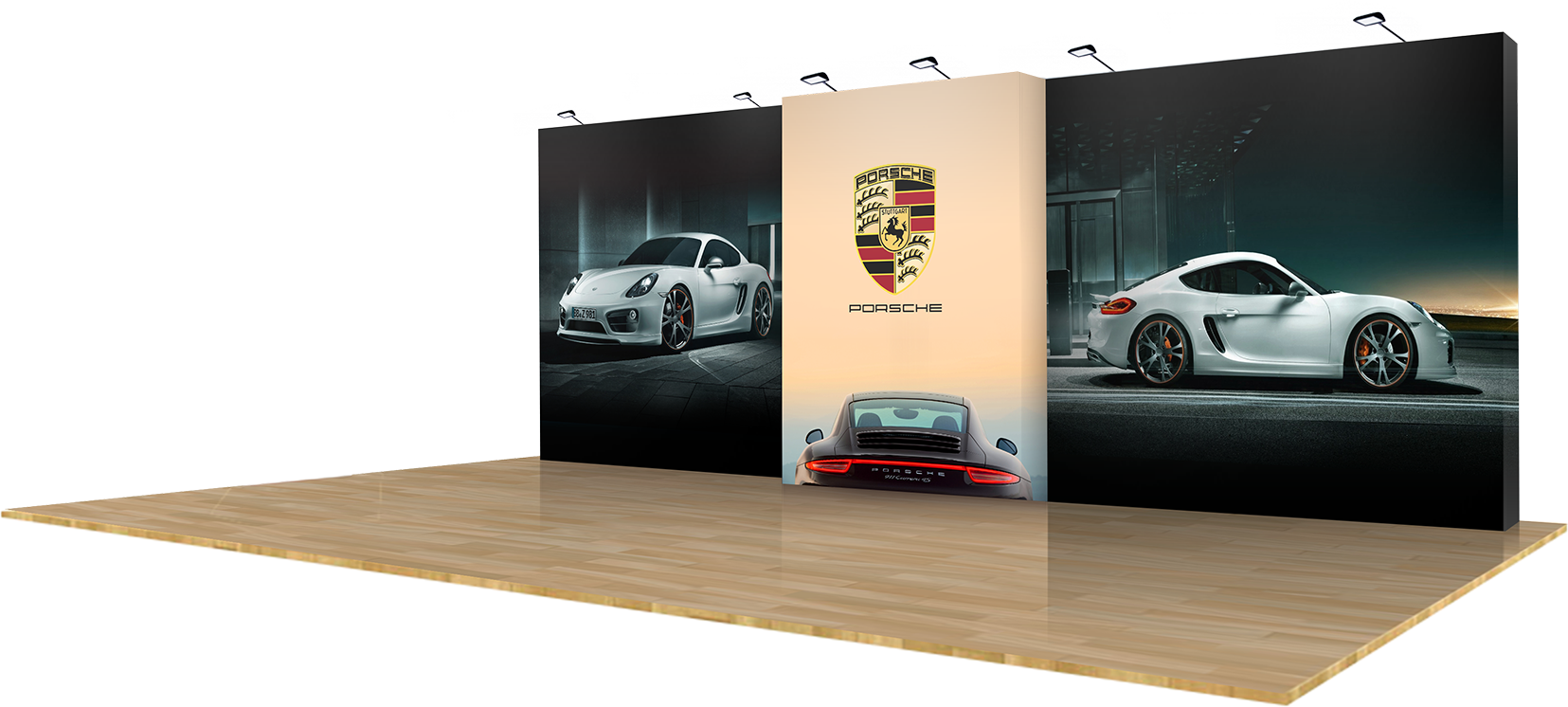 Hardware
| | | |
| --- | --- | --- |
| Setup takes seconds when the print is already installed on the hardware. | The Aluminum connectors hook together together to form the stable structure of the Pop Up. | Optional Pop Up Light connects to the frame on the Elite Fabric Pop Up models. |
Travel Options
| | | |
| --- | --- | --- |
| Elite Fabric Pop Up is a compact pop-up system that is easy to transport and quick to set up. | Convert your travel case into a podium with a custom graphics. | Optional hard case offers strong protection while being transformable into a podium with graphic case wrap. |
Quick Facts
Key points to know about Elite Fabric Pop Up Displays
Quick Install

Make life easier with easy-to-assemble hardware which allows for quick set-ups and tear downs at every event.

Durable

High quality frame constructed to set up with ease and sustain everyday use.

Double Sided

Add more advertising space with double side printing on straight Pop Up displays.

Easy Transport

These Lightweight Fabric Pop Ups are ideal solution for your travel exhibits.
Specifications
Item Code

ELITE5S

ELITE8S

ELITE10S

ELITE20S

ELITE8C

ELITE10C






Setup Time

2min
5min
5min
10min
5min
5min





Graphic Height

89.0"

89.0"

89.0"

89.0"

89.0"

89.0"






Graphic Width with end caps

83.62"
112.60"
141.50"
262.0"
106.75"
132.50"





Open Frame Width

60.0"
88.5"
118.0"
240.0"
90.0"
112.0"





Weight

34lbs
40lbs
44lbs
111lbs (2)
30lbs
35lbs





Total Height

89.0"
89.0"
89.0"
89.0"
89.0"
89.0"





Material

Dye sublimation stretch fabric.





Carrying Case

Polyester carrying case included.