LW Tube Displays

LW "Lightweight" Tube Displays are one of the lightest full size displays on the market, these systems combine a fabric graphic stretched over a collapsible frame.
Assemble in minutes with coded indicators. Tool Free assembly.
LW Tube Display Fabric graphic is a single, continuous panel printed to a durable, wrinkle-resistant polyester.
Lightweight and compact packaging makes Fabric Displays extremely cost efficient for shipping.
Available in 8ft, 10ft and 20ft wide frames, the LW tube display is a great solution for any booth space.
LW Tube displays are available in straight, curved and serpentine shapes.




LW tube offers you a seamless backwall with dye-sublimation fabric graphics. The tension fabric is stretched over the frame to display a perfectly taut image without wrinkles. Aluminum frame that contains absolutely no plastic, easy to match numbers to connect bars, thicker, more sturdy aluminum tubing, and larger push pins that are easier to press and connect. The colors and the graphic itself are extremely durable over time, guaranteeing an impeccable finish time after time. Increase advertising space with double sided LW tube displays, which allows your message/advertising to be seen from both sides.
Size Configurations
LW tube displays are available in 3 sizes ranging from 8ft to 20ft. Padded carrying case is included with all LW tube displays. Optional hard carrying cases are also available.



LW TUBE STRAIGHT

8FT - 91.5"W x 88.5"H x 15"D 10FT - 112"W x 89.75"H x 15"D 20FT - 240"W x 90"H x 22"D




LW TUBE CURVED

8FT - 6"W x 89"H x 15"D 10FT - 120"W x 89"H x 22"D 20FT - 240"W x 89"H x 26"D




LW TUBE SERPENTINE

10FT - 120"W x 89"H x 12"D 20FT - 235"W x 90"H x 25"D

LW tube display graphics can be printed double sided.
LW Tube Display 20'
Amaze your audience with a stunning graphical exhibit 20' Straight,
Curved or Serpentine LW tube displays. Optional multifunctional hard
shipping case is available that can be transformed into a counter.

LW20S
LW tube 20ft Straight
Size: 240"W x 90"H x 22"D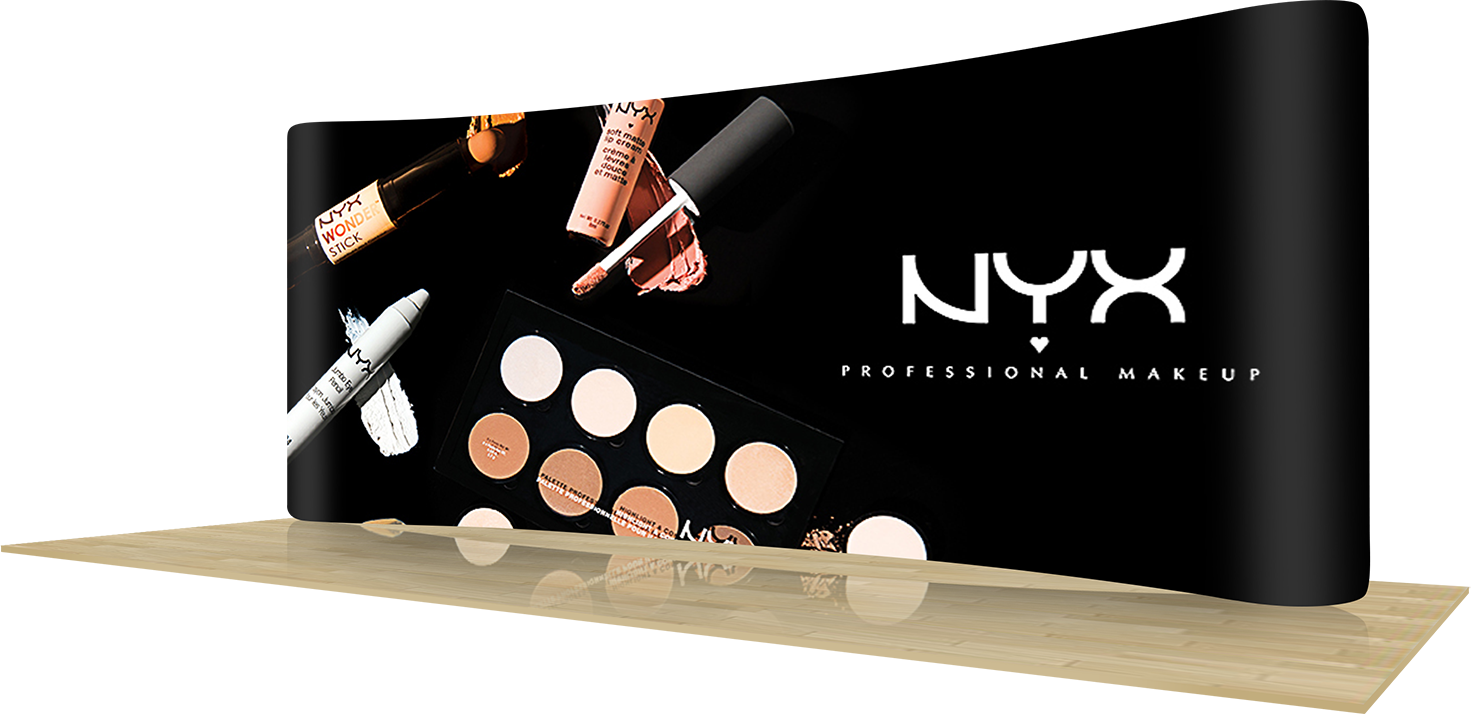 LW20C
LW tube 20ft Curved
Size: 240"W x 89"H x 26"D
Hardware
| | | |
| --- | --- | --- |
| Swage & Sprin button, Tool-Free Assembly | Anodized Aluminum frame assemble in minutes with coded indicators. | LW tube display comes with strong and padded carrying case for easy transport. |
Add-On Options
| | | |
| --- | --- | --- |
| Optional Pop Up Light connects to the frame on the LW tube displays. | The compact Counter is constructed of a sturdy aluminum frame that measures 4'x3'x1' and weighs 30lb. | Because the aluminum frame is collapsible, compact counter can be stored in the included carrying case for easy transport. |
Quick Facts
Key points to know about LW Tube Displays.
Easy Setup

Make life easier with
easy-to-assemble hardware which allows for quick set-ups.

East Carry

The lightweight banner
stands is ideal solution for your travel exhibits.

Double Sided

Add more advertising space
with double side option.

Style Choice

Available in 10 different hardware styles. A display to match your every need.
Specifications
Item Code

LW8S

LW10S

LW20S

LW8C

LW10C

LW20C

LW10SE

LW20SE






Setup Time

10min
10min
15min
10min
10min
15min
10min
15min





Graphic Width

89.50"
111.75"
240.00"
98.00"
122.00"
248.00"
122.50"
245.50"





Graphic Height

86.5"
87.25"
87.25"
88.25"
88.25"
91.00"
88.75"
94.75"





Display Width

91.50"
112.00"
240.00"
96.00"
120.00"
240.00"
120.00"
235.50"





Display Height

88.50"
89.75"
90.00"
89.00"
89.00"
89.00"
89.00"
90.00"





Weight

28lbs
44lbs
85lbs
28lbs
32lbs
85lbs
35lbs
65lbs





Material

Dye sublimation stretch fabric.





Carrying Case

Padded carrying case included.